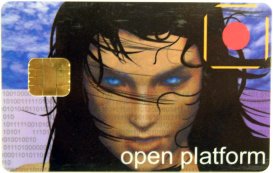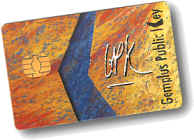 THE NEW ACS ACR30U PC/SC READER/WRITER
THE NEXT GENERATION IN USB PC/SC MICRO SMART CARD INTERFACE SOLUTIONS

THE NEW ACS ACR30U PC/SC READER/WRITER
Approved by Visa for use with the Smart Visa Card!
The ACR30 has both PC/SC and EMV certifications!

The ACR30U is the answer to all your USB PC/SC smart card interface needs for both desktop and laptop computers! No matter the type or operating frequency of the smart card, the ACR-30U's logic library can identify and automatically adjust its internal oscillator to match your smart card for optimal use. Built on the advanced ACS chip set, the ACR-30U is among the most advanced PC/SC smart card reader/writers to date while maintaining its sub compact size which is only slightly larger than a smart card itself! If you are new to the world of smart cards or a serious user of the technology, you can not and will not go wrong with this small yet attractive and powerful interface tool.
Product Features:
Supports microprocessor (MCU) based cards with ISO-7816 T=0 or T=1 protocol.
Compliant with ISO-7816/1/2/3
Microsoft PC/SC certified
EMV Certified
USB interface with simple command structure
Automatic MCU clock frequency selection for maximum operating efficiency
Automatic detection of card insertion and removal.
Automatic power ON/OFF
Green data LED
Smart card interface short circuit protected
Built to withstand aggressive use and abuse
Supports all common memory-only cards from different suppliers

-Siemens: SE4406,SLE4436(Eurochip),SLE4404,
SLE4418,SLE4428,SLE4432,SLE4442,
SLE5536 (Eurochip II)

-Atmel : AT88SC06, AT24C01-16, AT88SC101,
AT88SC102, AT88SC1604

-SGS-Thomson : ST1305, ST14C02C, ST14C04C,
ST1333(T2G cards), ST1335

-Gemplus : GPM896
-Xicor : X76F041, X24645, X76F128, X76F640,
X76F100
-Microchip : XIIC, 24C65, 24C01SC, 24C02SC
-Philips : PCB2032, PCF2206, PCF2042, PCF2236



Software:
Interface library for efficient PC application software development.
- DOS static library files
- 16-bit and 32-bit DLL files good for both Win3.1, Win95 and WinNT
- 32-bit OCX file
- PC/SC compatible IFD handler
Compatible with most PC and MAC platforms.
Specifications:
Programming speed from 9,600 baud to 115,200 baud.
5VDC @ 75mA supplied via the USB port.
Contact connector rated up to 100K insertion cycles.
Unit size only 2.5"L x 3.5"W x 0.5"H.
Colors Available:
The standard color is BLACK casing. We can also produce units in colors such as CREAM, NAVY BLUE, RED, or TRANSLUCENT.
Minimum quantities may be required for any custom color manufacturing.
NEW PRICE: $40.00US/ea - High-Tech Black

Attractive discounts on volume orders. Please email sales@dataphd.net for more information.

Product Notes:
Note The ACR30U is an intelligent reader that addresses the smart card through a firmware layer in the reader. If you are using or developing a PC/SC compliant application today, the ACR30U should work without modification to your application. The ACR30U will not work as a replacement for another reader (such as the SDR-30RS) in a non PC/SC application without modification of the application.

Specifications are subject to change without notice or obligation.
Tested to comply with FCC/CE standards for home or office use.

Certified for development and use with the following operating systems: