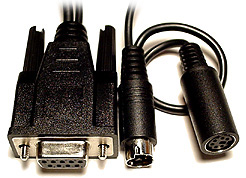 SDR30RS Reader/Writer
Included in the June 2001, issue of Windows 2000® Magazine
SMART CARD DEVICES BUYER'S GUIDE

SDLOGIC Technologies is now opening the door to worldwide consumer and commercial smart card application hardware support with the new SDR-30 series of smart card reader/writers. The easy to install single RS-232 cable connection with a PS/2 power tap makes operation of the new SDR-30RS for both desktop and laptop computers a breeze.

Just plug the SDR-30RS in and go! Built on the advanced SDLOGIC INTERSIL (SD-I)
RS-232 chip set, the SDR-30RS is among the most advanced smart card reader/writers to date requiring NO DEVICE DRIVERS in NON-PC/SC mode while maintaining its sub compact size which is only slightly larger than a smart card itself! If you are new to the world of smart cards or a serious user of the technology, you can not and will not go wrong with this small yet attractive and powerful interface tool.

The SDR30RS - the NEXT generation in direct RS-232 smart card interface hardware is here.

Product Features:


Supports microprocessor (MCU) based cards with ISO-7816 T=0 or T=1 protocol
Compliant with ISO-7816/1/2/3
Microsoft PC/SC compatible (SDLOGIC PC/SC driver required)
Direct RS-232 interface with simple command structure
Automatic MCU clock frequency selection for maximum operating efficiency (1.2MHz - 4.0MHz)
Automatic detection of card insertion and removal
Automatic power ON/OFF
Green data LED
Smart card interface short circuit protected
Built to withstand aggressive use and abuse
LIFETIME WARRANTY

Software:


Compatible with direct RS-232 interface software such as Winexplorer right out of the box with no device drivers needed
Install the simple SDLOGIC PC/SC driver and effortlessly integrate the SDR-30RS into any Windows based PC/SC application

Specifications:


Programming speed from 9,600 baud to 115,200 baud
5VDC @ 50mA supplied via the PS/2 tap
Unit size only 2.5"L x 3.5"W x 0.5"H

Attractive discounts on volume orders. Please email sales@dataphd.net for more information.

Product Notes:
Specifications are subject to change without notice or obligation.
Tested to comply with FCC/CE standards for home or office use.

Certified for development and use with the following operating systems: