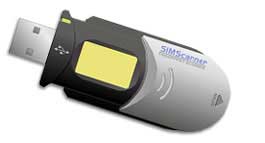 ADT60 BioSIMKey Development Kit

Available Soon


The BioSIMKey is an extremely compact device integrating a fingerprint scanner and a smart card reader. It is the latest innovation in biometrics and smart card technology through the joint development of STMicroelectronics (ST) and Advanced Card Systems Ltd (ACS).


Combining the functions of ACSí versatile ACR30 reader and STís patented TouchChip technology, the BioSIMKey is a compact USB device that can scan fingerprints and accepts plug-in smart cards. By using fingerprints to replace passwords or PINs, this device harnesses the power of biometrics and smart cards to provide a highly secure, yet convenient and affordable authentication process.
It is an ideal solution for a wide range of security-dependent applications.
Smallest integrated fingerprint scanner/smart card reader in the market today
High-speed USB interface
Requiring no additional power supply
Portable and easily transferable from one PC to another
High-resolution 508 DPI imaging
Utilizes STís patented TouchChip technology, resulting in high quality fingerprint images in any environment
ISO 7816-3 and PC/SC compliant
Supports all micro-controller cards, with T=0 or T=1 protocols
Encrypted finger print template stored inside smart card
Session key generation among smart card, BioSIMKey Processor and host computer
Unique bonding between the smart card and BioSIMkey
Remote Electronic Voting
Secured E-commerce
Secure Home-banking
Computer System Logon
Technical Specifications:
Physical Dimensions
71.5x32x16.5 mm
Supply Voltage
Regulated 5V DC
Supply Current
< 100mA (without smart card)
Operating Temperature
0 - 50 OC
Standards / Certifications
ISO 7816-3, CE, FCC, PC/SC
Operating System Support
Windows 98, Me and 2000
System Requirements:



IBM-Compatible Personal Computer with Intel 486 Processor or higher
Microsoft Windows 98/2000/Me
Minimum 16MB RAM
Available USB port